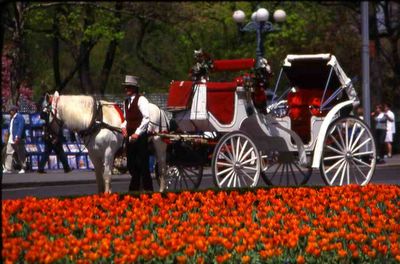 This
will be a short post. Busy day. I was reading the February issue of Smithsonian yesterday and came upon an article about Christo's installation, The Gates, currently alive in Central Park for a mere 16 days. Something wonderful in my favorite place in my favorite city on earth. I bought a train ticket and nabbed one of the last hotel rooms in the city -- Manhattan is sold out. (Mike tried to get me into a Marriott because he's got one of those fancy platinum cards, but no dice. Every Marriott in the city is booked. I then tried our old 3-star favorites, places we use in Manhattan when we're not staying for free using Marriott points -- the Westpark and Radio City Apartments. If you're fussy, or are bothered by bedspreads that don't match the drapes, look elsewhere. Anyway, both sold out. I turned to Expedia and got what looked like the last room in midtown, at the Roosevelt Hotel near Grand Central Terminal. )
I'll tell you about The Gates when I return, but, as anyone who read my inaugural blog post back in October will remember, you'll have to wait a bit for a photo, because I use film and am one of the few people left on the planet who have to wait for slides to be developed...
This should be an exuberant event. A perhaps once in a lifetime opportunity to take in something as wacky, wonderful and joyous as a Christo installation. I hope I see Christo and Jeanne-Claude, his wife, wandering around the park. I have a feeling they'll be there, watching everyone enjoy the miles of saffron-colored nylon fabric draped from 7,500 gates set 12-feet apart along Central Park's maze of walkways.
I will spend my entire visit in the park, viewing The Gates in the evening, at dawn on my 6 am runs, at height of day, and in the late afternoon light. I'll also scope out the course for the MORE Marathon, a marathon I'm running in Central Park on April 10.
Which reminds me, I'm in training, and today's my long run day. Gotta sign off and go bang out 14 miles. Come home, pack, and I'm off to New York City. Have a great weekend.