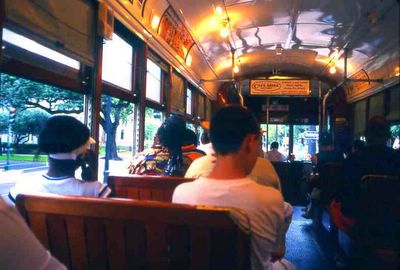 America has, effectively, lost one of its great cities.
The area of devastation from hurricane Katrina along and inland from the U.S. gulf coast is now estimated at 90,000 square miles, larger than Britain. Millions of lives and the face of a nation changed. The reports and pictures are unutterably sad, and conditions for tens of thousands of stranded poor are going from bad to unspeakable by the hour.
To find ways to help, check out these links provided by National Public Radio or America Online.
As I did after the Asian tsunami, I'll be donating half of the royalties from my book to relief efforts ($2 per copy if purchased from me or from Booklocker, and $1 per copy if bought through Amazon, Barnes & Noble or other online merchants). My donations will go to the American Red Cross, for an indefinite period.
It's beyond hard to grasp that New Orleans is, essentially, gone. A pulsing, teeming city with lore and history, traditions and stories, culture and color, gone. What will rise where it stood? Time, years of it, will tell.
Adam, Dana I became acquainted with the nooks and neighborhoods of this wild, watery city during our journey across America. We walked, drove, rode river boats and chugged along on the St. Charles Streetcar

(above).

This excerpt from Ribbons of Highway: A Mother-Child Journey Across America wasn't written to be a remembrance of something lost, but now is. When I read it, what once made me smile now makes my heart ache.
A storm brewed as we entered the Big Easy on the concrete bridge that crosses Lake Pontchartrain. The black cloud that swallowed us, and the ugly swamp and decrepit railroad bridge running next to us made Adam whisper, "VOODOO!" Then, "I'm gonna try it." He asked me if it works. I said I hoped not, and asked, "Who ya gonna do voodoo to? It better not be me." The first thing he bought in New Orleans was a voodoo kit. The next day, when Dana's $160 in trip money, saved up over nine months, went missing from our hotel room, Adam told us one of the sticks he'd played around with in his voodoo kit had read, "You will lose a lot of money." We didn't see much more of the voodoo kit.
New Orleans is a steamy ethnic gumbo, equal parts rough and refined. An hour after we discovered Dana's money had been stolen, a store manager gave us free pralines because the cashier had charged us too much sales tax. Bawdy Mardi Gras beads hung from wizened branches of ancient trees, from elegant railings, from the handlebars of locked bicycles.
We called Mike from the Acme Oyster House in the Quarter to tell him what we were eating. Dana gave the report: "Hi Daddy, it's us. We're in New Orleans. Mommy is eating gumbo poopa, Adam has a po'boy, and I'm eating hush puppies."
The stall door in Acme's ladies' room advertised a product I'd never heard of – one that must sell well here. A poster touted Alka-Seltzer's MORNING RELIEF: "Fast Hangover Relief. TONIGHT You're Feeling Goooood. TOMORROW Feel Better Than You Should." Necessary equipment in the Quarter, where even quiet, polyestered couples walk around with cups of beer and tropically flavored alcohol in long neon-pink glasses, filled and refilled at "To-Go" bars.
Acme's oyster shucker was at work behind the bar as we read the Wall of Fame.
"Those the champion oyster eaters?" I asked.
"Those're the fools."
The shucker told me that the name of the new Leader of the House hadn't been put up yet. "Jes' las' week a guy et 41 dozen. He's goin' on the Wall. An' you know what he et after that? Sof' shell crab. Raw."
The new champ's name would join the likes of Bill Poole from Berkley Heights, NJ, who downed 32 dozen while watching Super Bowl XXIV in 1990, and Edna-Sara Lodin who carried back to Stockholm well-earned tales of ingesting 16 dozen Louisiana oysters on May 29, 2000. Way to go, Edna.
We fell in love with the Quarter and returned many times, leaving the late evening and nighttime hours for revelers. We enjoyed early morning and late afternoon walks down Chartres and Decatur, watching the play of sunlight on bougainvillea hanging from the doorways and gleaming iron balconies. Down Royal and Iberville to take in the sherbet-colored facades and long hunter green shutters that hid windows that met the pavement. Down Bourbon and into Jackson Square to see the characters and watch the palm and tarot readers and hear zydeco and Cajun music spill onto the sidewalk from air-conditioned souvenir shops. I pointed out the "horse carriages" lined up to take tourists around and was duly educated on the differences between horses and mules. Dana was amused I could mistake one for the other. Even after the thorough equine identification lesson, it remained tricky nuance to me. I was glad there wasn't a test.
For a genteel view of the city, we rode the Garden District's St. Charles streetcar to the end and back. We got a slow, rolling narration of the sights - wedding cake mansions, beautifully painted shotgun houses, shady Audubon Park, the venerable side-by-side campuses of Tulane and Loyola - from a funky little lady who'd ridden the trolley down to Harrah's on the river, where she'd played the nickel slots. She'd spent 15 cents and won 10 dollars. "I'm rich!" she laughed.
Leaving New Orleans, we drove the eerie gauntlet of Metairie Cemetery's above- ground tombs, which line both sides of the highway. An endless sea of bright white, cross-topped houses for the dead.