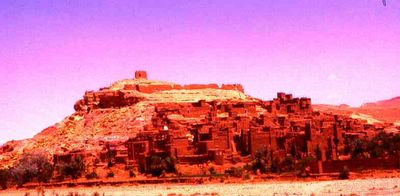 WARNING! UNLESS FOREIGN PLACE NAMES EXCITE YOU,THIS POST MAY CAUSE YOUR EYES TO GLAZE OVER AND YOUR BRAIN TO EXPLODE

My subscription to
National Geographic Traveler
flows less than smoothly. The magazine shows up in my mailbox only intermittently, perhaps because I'm on the C-list of subscribers – those who cashed in soon-to-expire frequent flier miles to get the mag. I guess they figure if I didn't use my miles (and who can anymore?) then I don't really travel, so why bother sending me every issue of the magazine? (
Travel & Leisure
, for which I coughed up some 800 miles, has never sent a single issue, which is frankly fine with me, because it saves me having to read about precious martini bars, spas and $400-a-night hotel rooms that are
soooo
worth it because the sheets have a high thread count.)
I read about
Charles Veley
in one of the few
Traveler
issues sent my way. (I feel betrayed. I've subscribed to the flagship
National Geographic
since 1981. Kept up my subscription through thick and thin, even in post-college days when I had to choose between rent and beer.)
Veley is the self-described "world's most traveled human." According to Veley's master list, which you can view at his website,
www.mosttraveledman.com
, there are currently
572 "countries, territories, autonomous regions, enclaves, geographically separated island groups, and major states and provinces"
in the world. (This is up from the 570 he listed at the time of the
Traveler
interview. I'm losing sleep wondering about the names, locations and circumstances of the two most newly minted autonomous hunks of geography.)
Of those 572 entities, Charles Veley has, at the time of my last visit to his website, visited 518. This in itself is astounding, but it's made more so when you analyze the list of places. With some time to kill on a Cape Cod beach, I took Veley's list and really looked at it, trying to conjure pictures of these places and of the man who's set foot in 90% of them and whose life seems to revolve around treading earth, if even for an hour or two, on all of them. I found myself wondering what will happen when Veley succeeds in visiting all the places while he's still a youngish, healthy, adventurous man. Perhaps someone will create a new autonomous region or two for Veley to add to his list, or maybe he'll try to become the first person to revisit 572 places.
Some of the places are, to this traveler's mind (I've visited 114 of the entities, but who's counting?), strange conquests, and the list bothers me a bit.
You've got your US states and Canadian provinces, your big and little countries, your places, like Tibet, that ought not to be owned by someone else but sadly are, your popular islands. You've also got places that make me rethink my confidence about someday applying to be a
Jeopardy!
contestant based largely on my knowledge of geography. Places I'm sure I'll never plan a trip around. Lonely outcroppings jutting from oceans. (Veley must haunt freighters, tankers, ice cutters and packet boats). Places I've never heard of.
To successfully tick off all 572 world entities on Charles Veley's master list, he or anybody else on this world quest must spend time in Banaba, Mellish Reef and Market Reef, the states of Pohnpei,
Chuuk
and Yap, Navassa,
Cabinda
, St. Peter & St. Paul Rocks, Moheli, Anjouan, Tripura, Udmurtia, Abkhazia, Adygeya, Sark, Svalbard, Nakhicevan, Komi and Ogasawara. After I post this, I'm going to pull out my
Merriam Webster's Geographical Atlas of the World
and find every one of these buggers.
Veley's list seems to count some places more than once, in my opinion, and other places not at all, in my opinion. I know it's a tangled geo-political web we weave, but some of the list's hair-splitting leaves me in knots.
Been to Australia? I'd count it once. Veley's list gives you a potential hit for every state and region in Australia. "Australian Capital Territory" (hmmm, to me that's the city of Canberra) is a distinct entity from Queensland, New South Wales, South Australia, and every other piece of Down Under you can carve up. As it does for Australia, the list grants entity status to every US state and Canadian Province, but other countries are treated inconsistently. There's an entity called "Mexico (North/Central)" and one called "Yucatan Peninsula (Campeche, Quintana Roo, Tabasco)." There's a separate listing for the Mexican states of Chiapas and Baja California, but none for Oaxaca, Zacatecas, Jalisco, Chihuahua, Sonora and other states (ah, yes...lumped into "North/Central").
India's treated a bit like Mexico. India as a whole is an entity, but then we've got separate entries for only a handful of the 35 Indian states and territories. Goa's there, as are Mizoram and Nagaland, but there's no Kerala, Gujarat, Himachal Pradesh, West Bengal... Likewise South Africa. The country itself isn't on the list, but eight of its nine provinces are. (Northern, formerly Northern Transvaal, is missing.)
Fully 192 of Veley's places are islands. There are lots of far-flung, sparingly visited tufts of land, but some well-known spots seem to get shortchanged. Niue and Pukapuka may be individual entities, but then give me St. John and St. Thomas as two, not one. Veley's list lumps "Virgin Islands, U.S." into one entity. No one could mistake St. John for St. Thomas. Lumping them may make sense politically, but not geographically. And the British Virgins are lumped into "Tortola, etc." What would Virgin Gorda have to say about that? On the other side of the pond, however, each of the Channel Islands,
Herm
included, gets separate billing.
While the islands of both the USVI and BVI are lumped together, the Grenadines are pulled apart. The Bahamas are a single entity, despite the fact that there are 13 major islands and additional minor ones flung over nearly 5,400 square miles. St. Maarten and St. Martin are two entities. Fly to the island, sun yourself on the Dutch side, have lunch on the French side, and check two entities off your list. (Again, that works for me politically, but not geographically. St. Martin isn't Hispaniola. I wouldn't come home from a St. Martin vacation and tell people I'd visited two countries.)
Gitmo is its own destination. Any soldier, or world civilian held without charges or representation for lo, these four years now, can tick off not only Cuba, but Guantanamo Bay as well. Spain is somewhat carved up, but France is not. Galicia, Catalonia and Euskaldunak (Basque Territory – my weekend jaunt from Paris to San Sebastian a few years back lets me chalk up Spain and Basque Territory as a two-for-one) are different entities, but France is France, and there are no distinctions between Bordeaux, Bretagne, Provence, Languedoc or Haute-Savoie.
To be fair, Veley, collector of countries, does acknowledge that devising a list of the world's entities is subjective, and he invites comments and suggestions. (But you have to register and log in to mosttraveledman.com to share your thoughts, and I try to keep registering and logging in to a minimum.)
I understand most of the contemporary geopolitical considerations that guide the list, but I do wonder at some of the distinctions. Like why Cyprus, in addition to the separate Greek and Turkish parts, gives travelers a chit for visiting the "British Sovereign Base Areas", why Greece's Mount Athos, Dodecanese and Ionian Islands (but not the Cyclades or Sporades) count as separate from Greece, why Crete is not Greece (don't shoot me), why Scotland's Shetland Islands are counted as a world unto themselves, why Istanbul, which straddles Europe and Asia, counts as two places, why Panama's San Blas Islands are a separately-rated goal from Panama itself, and why you get points for visiting the
"Sovereign Military Order of Malta
," the Catholic order founded in Jerusalem about 1050, housed on Malta during the Crusades, but now headquartered in a palazzo in Rome. Is it the palazzo visit that counts, or can you just shake hands with one of the order's 11,500 Dames and Knights, scattered in 54 countries around the world? And if you're going to list European enclaves like Busingen, Llivia and
Campione d'Italia
, a piece of Italy sitting inside Switzerland on Lake Lugano, then why leave out the Netherlands' Baarle-Hertog? And why is Germany listed twice, as Eastern and Western?
I have to stop now. I'm driving myself crazy. These questions will vex me for days. I wish I'd never found Veley's list.

Now to my geographic encyclopedia to study up on Cocos Island,
Jan Mayen
, Ajaria, Rockall and the
Srpska Republic.

(The picture above? Morocco. One of my 114/572. Easier to visit than many of Veley's other list destinations. This is Ait Benhadou, in the Sahara desert near Ouarzazate. A place where stacks of twigs suddenly sprout sturdy legs, and the bush that blocked your path a moment before hoists its load up onto its back and clambers up toward the casbah. You follow.)