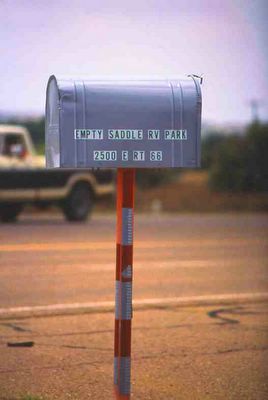 Steve Vaught will pass this mailbox on Route 66 in Tucumcari, New Mexico in the next few weeks, if all goes well.
Vaught, a 39-year-old dad and husband from Oceanside, California, is walking across America for a cause. The cause is himself. His own life. Vaught has watched himself change "from a lanky teenager to a muscular Marine" to a fat man, and he's resolved to lose the weight that is robbing him of important pieces of his life. On his website, www.thefatmanwalking.com, Vaught is chronicling the journey that he's undertaken "to lose weight and regain my life."
Realizing that there's "no other option but physical exertion," the Fat Man Walking is determined to walk himself thinner and healthier. He set out on April 10, 2005 and will spend six months tracking a route through America that includes much of Route 66, the Mother Road. Vaught anticipates spending six months walking from the Pacific to the Atlantic.
To track his progress (he's now in Arizona), wish him well or offer support, visit www.thefatmanwalking.com. Vaught is making a bold move, one labored step at a time. Godspeed, Steve. More power to you.
www.LoriHein.com