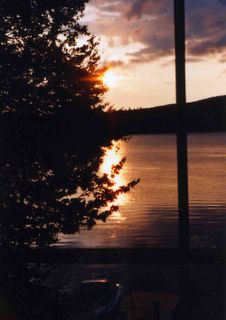 This is the view from my cottage in Stoddard, New Hampshire, home to 800 souls and an additional 3,500 or so folks like us who spend weekends and vacations on or near seven-mile-long Highland Lake.
We lead a pretty low-tech existence up there. If the rabbit-ear antenna sitting atop our tiny TV is in a good mood, we pick up two television stations -- ABC and PBS. We've become Antiques Roadshow devotees. We have to travel about five miles from our house to get cellphone reception (I pray that no one ever sticks a cell tower on top of nearby Pitcher Mountain), so the kids suffer Nokia and Motorola withdrawl when they're in Stoddard. They compensate by plugging their MP3 players into their ears for the weekend. We have to talk loud to get their attention.
Mike works around the house, relaxes and plays around with his new BlackBerry, a device so addictive we all call it the CrackBerry. I read. I've amassed a huge library by shopping for used bargains at the Homestead Bookshop. I recently wrote an article about the shop for a lovely online magazine called The Heart of New England.
The e-zine, edited by Marcia Duffy, offers glimpses of life in Maine, New Hampshire and Vermont, but it has readers from all over the world. Duffy has a neat tool -- a Bravenet Guest Map -- on her homepage. I'm a map fanatic, so of course I had to check it out. I found that people from places as far-flung as Wattsville, Alabama, Bainbridge Island, Washington, Australia, France and Turkey get a weekly New England fix from Duffy's magazine. Enjoy some good little New England stories and stick your own pin in the map.